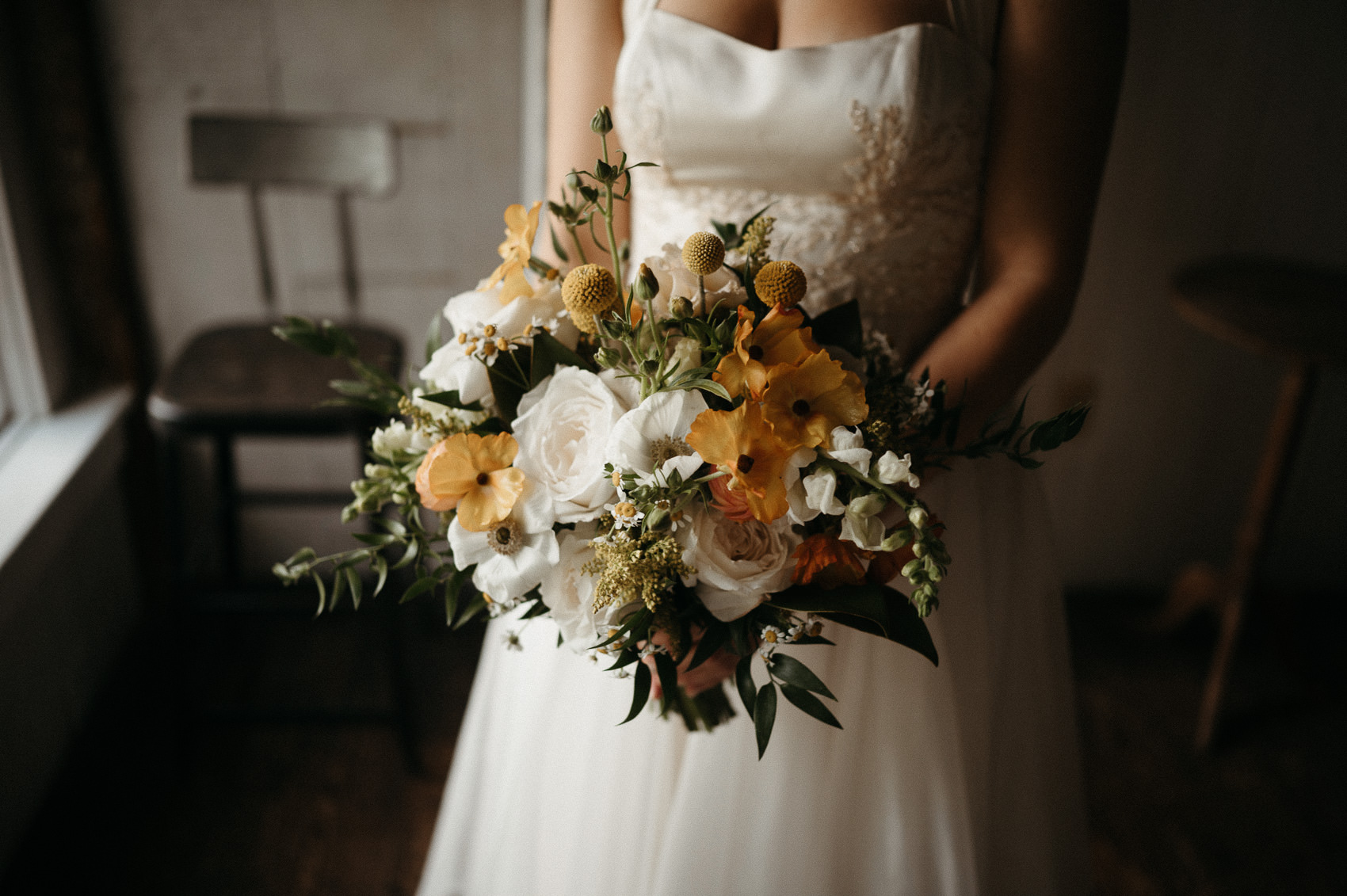 Congratulations! Your wedding is just around the corner and plans for the big day are in full swing. One of the essential parts of planning a dream wedding is the flower arrangements at your wedding reception. The floral arrangement will set the tone of the reception and accentuates the mood you want to create. In other words, you must get it right. With that in mind, you must choose the right florist for the style you're interested in and the ideas you've collected on your idea board.
Do you want your reception flowers to infuse an air of an over-the-top elegant setting, or are you looking for a fairy-tale romantic backdrop, an industrial theme, a vintage theme, a classic theme, or a rustic theme? Find a florist who can bring your ideal theme to life.
Below are some of the best florists in Upstate New York specializing in various themes:
Poppy Tree Floral Design (West Sand Lake, NY) poppytree.net
Melissa Orth, Poppy Tree Floral Design's proprietor and lead designer, has been a flower enthusiast from a young age with a keen eye for bringing classic flower arrangements to life. Mixed flower arrangements for centerpieces, bouquets, or flower arrangements, are never easy to get right. However, Melissa has had a lifetime of practice and experience. You can trust this award-winning florist to create unique floral decorations for your special day.
Lavendar & Leaf (Wappingers Falls, NY) lavenderandleaf.com
Lavendar & Leaf style focuses on infusing an aura of wilderness with a touch of refinement. Additionally, their processes and inputs are sustainably sourced. For instance, they use foraged inputs sourced from the wild and their cutting gardens. Consequently, you get florals with lush blooms and lots of textured greens that reflect the season, the space, your preferences, and Lavendar & Leaf's unique feel and style for floral arrangements.
Flowerkraut (Hudson, NY) flowerkrauthudson.com
Flowerkraut takes a unique approach to floral arrangements. Amanda Bruns religiously uses freshly cut seasonal flowers. As such, her flower designs highlight the best of local and regional fauna that every season offers. Importantly, Flowerkraut selects its range of flowers locally and regionally. You can rest assured that you're working with a florist mindful of reducing the carbon footprint of your flowers. Additionally, the company is renowned for incorporating plants into its unique floral arrangements and some bouquet designs.
Hops Petuina (Hudson, NY) hopspetunia.com
Hops Petuina is another quint upstate New York florist focusing on sustainability and promoting American businesses. They go above and beyond to source flowers from American-grown farmers, more so local farmers in upstate New York. While they source flowers sustainably, it does not mean they slack on the quality of floral arrangements.
You can rest assured of your wedding having bespoke flower arrangements that meet your ideas and vision. Hops Petuina will also help you understand and choose a color palette, table accessories, and, importantly, help you create the right mood during your wedding reception.
Sam Nass Floral Design (Saratoga Springs, NY) snfloraldesign.com
Sam Nass Floral Design is not another run-of-the-mill florist. Aside from providing class-leading consolations to help draw up designs and understand your color palette, style, and everything you'd like or dislike in your floral arrangement, they also provide mock-ups. By offering a mock-up, they help you visualize your wedding, allowing you to make adjustments quickly.
The company also offers an extensive catalog of services related to floral arrangements. For instance, it has an extensive inventory of vessels, natural containers, metal vases, arbors, stands, candelabras, statement pieces, linens, and more. They have everything you'd want to create your ideal wedding reception.
Athabold (Germantown, NY) athabold.com
While Athabold is a relatively young florist company, it punches above its weight by exceeding customer and client expectations. The proprietors, Shuheng Ji (who has ten years of experience as a florist) and her husband, Dan Djuplin, go above and beyond to provide the best customer experiences possible. Every aspect of the customer experience, from consultation to the actual implementation of the project, is carefully thought out to ensure you get your dream wedding or elopement. What you get with Athabold is exceptional personalization, as their journal of previous works shows.
Ailish Floral (Germantown, NY) ailishfloral.com
Located in Germantown, Ailish Floral is at the heart of locally floral beauty. The company is spoilt for choice with plenty of locally available flowers and plants. Notably, Ailish Floral goes above and beyond to ensure every aspect of its services and products are sustainable. For instance, they offer a unique line of handmade pottery, eliminating the need for and use of single-use vessels.
On the styling front, Ailish Floral offers a slew of styling options, aptly named The Mount, Cedar Lakes Estate, Glynwood, Foreland, and Mirbeau. You can use these themes as a foundation for unique floral arrangements.
Flowers by Ford (Brooklyn, NY) flowersbyford.com
Flowers by Ford has perfected 'simplicity that epitomizes beauty.' Molly Ford's floral arrangements are simple, aesthetically stunning, and exquisitely implemented. And if you're after an elaborate floral arrangement, she'll oblige and create a floral arrangement that meets your needs. Drawing from the floral abundance upstate New York has to offer, Molly works with locally sourced flowers to bring her clients' dream and vision of the perfect wedding to light.
While many florists will get the basics of floral arrangement, not many will create a balanced composition that's eye-catching while remaining faithful to your theme. Our choice of the go-to florists in upstate New York is based on their proven track record of working with clients to bring different themes to life.