What is a First Look? Do I want to do one?
A First Look is when a couple will see one another before their ceremony. It can be a grand reveal, or a low-key intimate moment between the couple.
When talking to couples about their day, one of the few things that comes up a lot is whether or not to do a First Look. This comes up early in the conversation as the day's timeline will be quite different depending on if you are or are not doing one.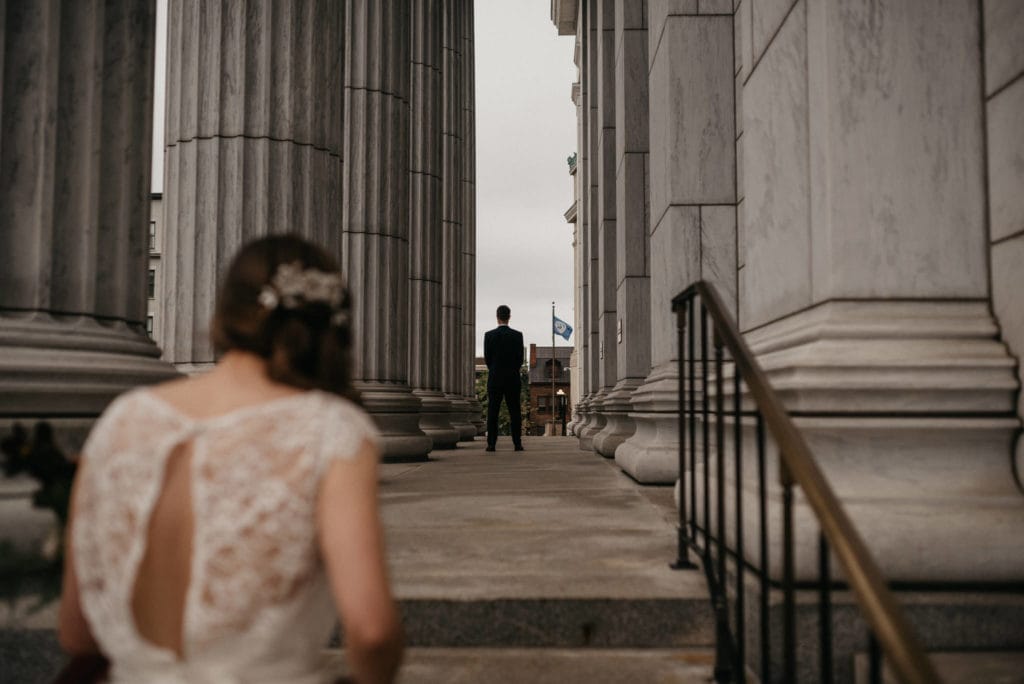 From a logistical perspective, when doing a First Look, your day's timeline is made so you can do your first look, family photos, and bridal party photos before the ceremony. This allows you and everyone in your family and bridal party photos to go straight to cocktail hour after the ceremony, and makes it so the only photos left to take are the couples' portraits while the sun is setting.
From an emotional perspective, seeing one another before your ceremony may allow your nerves to cool off and let you feel more relaxed going into the ceremony. It also allows you to be with one another for a few moments to hug, chat, and take a deep breath with no pressure or audience. It's nice to take a moment to just be with each other, in your wedding outfits, without then immediately being put into the ceremony itself. This is also a nice opportunity to privately read one another your vows, if you're not into doing it in front of everyone during the ceremony.
For my own wedding, I was pretty nervous for the ceremony, to say the least. Having seen my fiancé beforehand helped me feel less nervous and I really enjoyed the quiet moments we had to connect and take a deep breath before everything started.
Side note: we actually got ready together, with no one else in our Airbnb. It was nice to help one another through the process of getting the formal wedding clothes on, and made some of my favorite photos of the day. Plus, we got to see and be with one another longer on our wedding day, compared to if we had done it all separately. We even took a few amazing portraits in the Airbnb as it was a picturesque location.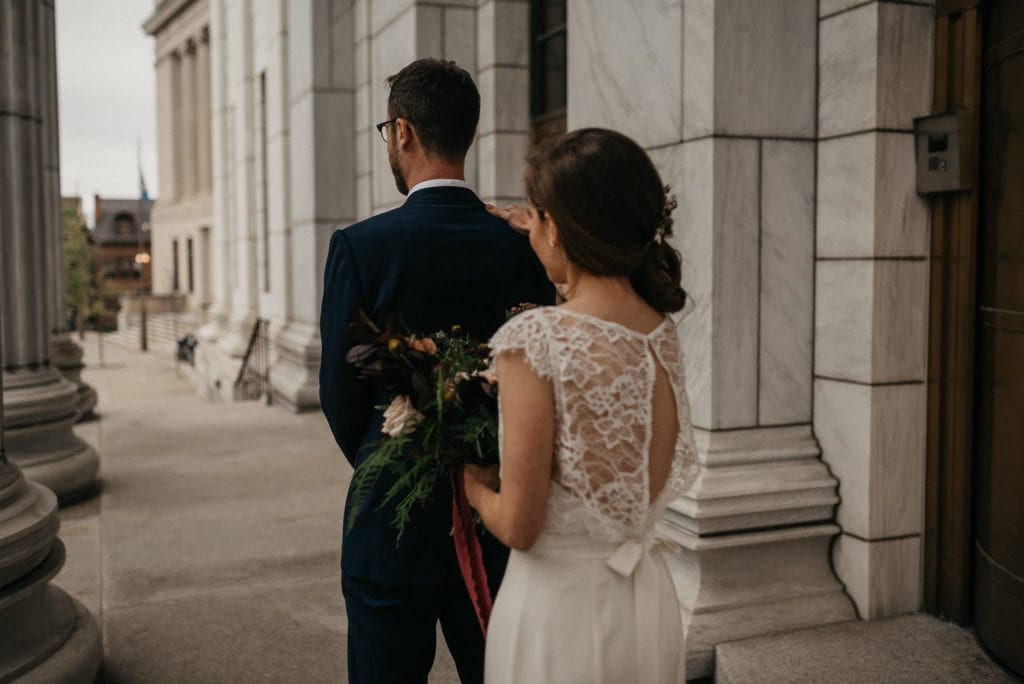 With that all said, not doing a first look is totally fine! After all, this is your wedding.
I know a lot of people have been looking forward to that moment of seeing their fiancé as they're coming down the aisle their entire lives. There are however, a few things to consider if you are not going to do a first look.
Sunset time matters!
First, making sure you have enough daylight! If you're not doing a First Look, you will have to do all you photos after the ceremony, including family, bridal party, and then portraits. If the sun is setting during or before your ceremony, it's impossible get those beautiful portraits with the golden setting sun if it's dark out. This sound obvious, but is a consideration a lot of people don't take into account.
Second, is making sure your family photo list is as tight as it can be. I recommend 12 groups or fewer. Family photos during cocktail hour compete with an open bar and buffet of incredible food, both of which are a little more fun than pictures. If people are missing or keep wandering into cocktail hour it's often better to take the photos without them then let people get worked up or make things run late. Worst case scenario is your family photos take so long that the sun is now gone, and there is no time left for your wedding portraits.
On a day with a late sunset time, or if things kick off a little early, a long cocktail hour may let you get family and bridal party photos out of the way, while still being able to attend a bit of cocktail hour, and then go for portraits during dinner. It all depends on the day's timing, and what you want to do.
I hope this helps in explaining the differences between doing a First Look or not! If you have any questions, please reach out. I'd be happy to help!